Welcome to the Winnipeg Home + Garden Show!
Signs of warmer weather are already here, which means spring must be right around the corner (finally)! As you look towards warmer days, it's the perfect time to get a good dose of home and garden inspiration and start planning out spring home renovation projects! From making the most of your outdoor spaces for the summer months, to finishing off a home improvement project, we have everything you need from the industry's top celebrity guests and homegrown Winnipeg talent alike, to help you make your bring your ideas to life!
We're thrilled to welcome HGTV Canada stars Brian McCourt and Sarah Keenleyside of Backyard Builds to Winnipeg for this year's Show. They'll share top trends for outdoor living and some key advice to help you transform your backyard! Local home and garden experts hitting the stage include designer Kristin Hayward who will share trusted design advice, organizing expert, Sara Verwymeren of Three Pines Organizing who will inspire you to love the home you're in, and garden expert Alex Augustyniak of West Coast Seeds who will help you say hello to spring and get garden ready!
From paint colour to furniture, landscaping to functionality, your space is all about you. Join us at the Winnipeg Home + Garden Show from April 16-19, 2020 at the RBC Convention Centre. Buy tickets online and save $2 .The best part? Satisfaction guaranteed - or the price of admission is on us!
We can't wait to see you there.
Jenn Duxbury, Show Manager
Top Features
THE IKEA MAIN STAGE, presented by the Winnipeg Free Press, flooring provided by XL Flooring
Seeking sweet relief on a home improvement project? Look no further than Canada's most popular designers, gardeners, realtors and home improvement specialists on The IKEA Main Stage presented by the Winnipeg Free Press. Celebrity presenters including contractor, Brian McCourt & designer, Sarah Keenleyside, hosts of Backyard Builds and Home to Win ensemble cast on HGTV Canada will join a line-up of local favourites to deliver insight to up your home and garden game in no time flat.
THE LOUNGE, designed by Anthologie by Ayoko Design, featuring Nomad Box Bar
Toast to all the expert design in-store at the Show, with an elegant cocktail in hand, from Winnipeg's first and only vintage horse box bar, Nomad Box Bar in The Lounge. Built in 1978 and lovingly restored 40 years later, the Nomad Box Bar will allow Showgoers to sip and savor while you relax in The Lounge, beautifully designed by Winnipeg's Ayoko Design. While you sit back, shop Ayoko Design's curated collection of books featuring local design, art, food, fashion & handmade wares in support of Winnipeg Charities.
ASK A RENOVATOR, presented by the Manitoba Home Builders' Association and Home Decor and Renovations Magazine
Would-be renovators, rejoice: direct access to the city's top home improvement experts is at your fingertips! Grab your demo plans and blueprints, and drop in for a free consultation at Ask a Renovator. All it takes is 15 minutes - just enough time to avert disaster and start to make dream homes come true.
THE DESIGN STUDIO, presented by Style Manitoba and Cloverdale Paint, designed by iDesign – Interiors by Kristin
Do you suffer from style paralysis? Are you stumped on how to turn your house into a home? The experts will see you now! Swing by for a free 15-minute consultation at the Design Studio, where industry pros will help you nail down your design style, craft a home makeover plan, and offer tried-and-true design advice.
SHED-FORMATIONS, presented by Premier Portable Buildings, landscaped by Galay Landscaping
Is your backyard a downright disaster? Could you use the extra square footage to house an alternate space? Are you looking to upgrade your green-space? Transform your yard with the shed and garden of your dreams. Explore three custom sheds, with three distinct styles while you learn about the benefits of growing in your backyard. Showgoers will explore what to grow and how to landscape your yard to benefit the surrounding environment. Let the Backyard-formations begin!
POP-UP MARKET
Who's in need of a little retail therapy? We're showcasing a selection of the city's emerging makers in a special home show pop-up edition. With one-of-a-kind pieces to take any wardrobe, jewelry box or art collection to whole new heights, shopping local has never been so chic.
SIDECAR BAR
Need a refreshment while walking the show? Stop by and sip on our signature cocktail created just for you! Located near the stage, this insta-worthy travelling bar is the perfect pit-stop before you take in a presentation or two.
BAREFOOT GARDENER POP UP FLOWER SHOP, presented by Style at Home Magazine
The Barefoot Gardener Flower Truck will be in full bloom as it makes its debut as Winnipeg's newest mobile flower shop! Shop from fresh-cut blooms, beautifully crafted bouquets or handpick from fresh florals to create a gorgeous arrangement. 
WORKSHOPS, presented by Anthologie by Ayoko Design
Get hands-on with some of Winnipeg's finest makers, artisans and craftspeople with our vast selection of exciting workshops at the show! Visit winnipeghomeandgardenshow.com to sign up for a workshop and receive a FREE ticket to the Winnipeg Home + Garden Show!
PAWS-ITIVE VIBES
Animal lovers rejoice! Showgoers will have the op-purr-tunity to shop from local pet re-tail vendors and meet a variety of cats and dogs available for adoption at the Shows first Paws-itive Vibes feature! Meet local pet people and find a little something for that four-legged family member. Stop by Paws-itive Vibes to shop and visit our furry friends in need of a fur-ever home.
Meet the Experts
Brian McCourt and Sarah Keenleyside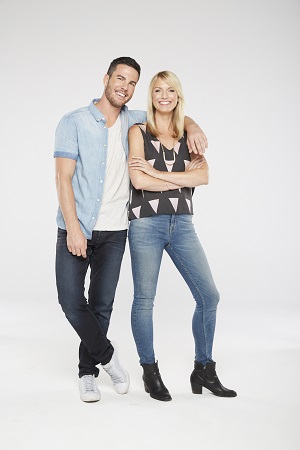 (photo available here)
Photo courtesy of HGTV Canada
Contractor and TV Host, Backyard Builds, HGTV Canada
Instagram: @brianmccourtdesigns
Twitter: @BrianMcCourtTV
Facebook: @BrianMcCourtDesigns
Brian McCourt is a trusted contractor, design expert, real estate flipper, and television personality. He is best known as the co-host of HGTV Canada's Backyard Builds: a series dedicated to creating innovative outdoor spaces.
A fifth-generation builder, Brian is one of seven siblings – four of which work in real estate and renovation. It is safe to say that it runs in the family! From a young age, Brian felt drawn to real estate. He would watch his parents renovate small-town Victorian homes while refinishing furniture and scoping out flea markets in their free time. By the age of 19, Brian flipped his first property, and at 25 he had nine successful flips under his belt. Today, he boasts 15 years of hands-on renovation and design experience, functioning as a rare designer-contractor blend. In 2010 he opened the eponymous Brian McCourt Designs to help homeowners transform their houses into inspiring, custom homes.
In addition to Backyard Builds, Brian is featured on HGTV Canada's Home To Win (Season 2,3,4) as well as Family Home Overhaul (premiering Spring 2020). Both series are devoted to helping monetarily modest families live in beautiful and safe homes.
Sarah Keenleyside
Designer and TV Host, Backyard Builds, HGTV Canada
Instagram: @sarahkeenleyside
Twitter: @SarahKeenerside
Facebook: @thesarahkeenleyside
Sarah Keenleyside is a designer and TV personality recognized for creating unique and creative environments tailored to the individuality of her clients. Sarah's signature approach to interiors and exteriors is a result of a multi-disciplinary background in art and design. She loves to have fun with design and share her trade secrets, as she insists on losing the stigma that design is elitist. This is best showcased on her HGTV Canada show Backyard Builds: co-hosted by friend and collaborator Brian McCourt, the series is dedicated to creating innovative outdoor spaces.
Sarah can also be seen as a guest Design Expert on several daytime talk shows as well as on HGTV Canada's Home To Win and the brand new series Family Home Overhaul, premiering Spring 2020.
See Brian McCourt and Sarah Keenleyside on The IKEA Main Stage, presented by the Winnipeg Free Press:
Presentation topic – Outdoor Living in 2020: Advice For Transforming Your Backyard
Friday, April 17 at 7PM
Saturday, April 18 at 1PM
SHOW SPONSORS:
RenovationFind.com

Sleep Country

Premier Portable Buildings

Cloverdale Paint

Toyota Canada

IKEA

Signature Cleaning Service
SHOW PARTNERS:
Manitoba Home Builders' Association

Galay Landscaping

Lacoste Garden Centre

XL Flooring

iDesign – Interiors by Kristin

Peachy Green Events

Ayoko Design

Nomad Box Bar
The Vitals
SHOW DATES + HOURS:
Thursday, April 16th: noon – 9:00 pm
Friday, April 17th: noon – 9:00 pm
Saturday, April 18th: 10:00 am – 9:00 pm
Sunday, April 19th: 10:00 am – 6:00 pm
SHOW VENUE + LOCATION:
RBC Convention Centre
375 York Avenue
Winnipeg, MB R3C 3J3
ADMISSION:
Adults (13+): $13
Adults (13+): ONLINE: $11
Seniors (60+): $11
Seniors (60+): ONLINE: $9
Seniors Thurs. & Fri. before 5pm, Box Office & Online): $6
Children 12 and under: FREE
Buy tickets online and save $2 at https://winnipeghomeandgardenshow.com.
SOCIAL MEDIA:
Twitter: @wpghomeshows #WHGS20
Instagram: @wpghomeshows #WHGS20
Blog:  homeandgardenblog.com
Facebook: Winnipeg Home + Garden Show - Event Page
Web: winnipeghomeandgardenshow.com
Media Contact:
Claire Henwood, Sr. Account lead
Reformation.
604.681.7565 x 106