The Natural Solution for Hot Tubs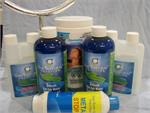 Booth: 1438
140 Greenwood Avenue
The Natural Solution for Hot Tubs is a 100% all natural hot tub treatment using enzymes to treat your hot tub water. It softens your skin and will not cause rashes, itching burning eyes or dry skin. 1 bottle of 3 month water treatment is $40.95 every 3 months.
Visit us at booth #1438 *****ATTENTION POOL OWNERS***** we now have a pool treatment.
We have launched our pool treatment in 2018. This replaces chemicals in your pool. The product is an algaecide, bactericide and fungicide and is 100% all natural and safe for you and the environment.